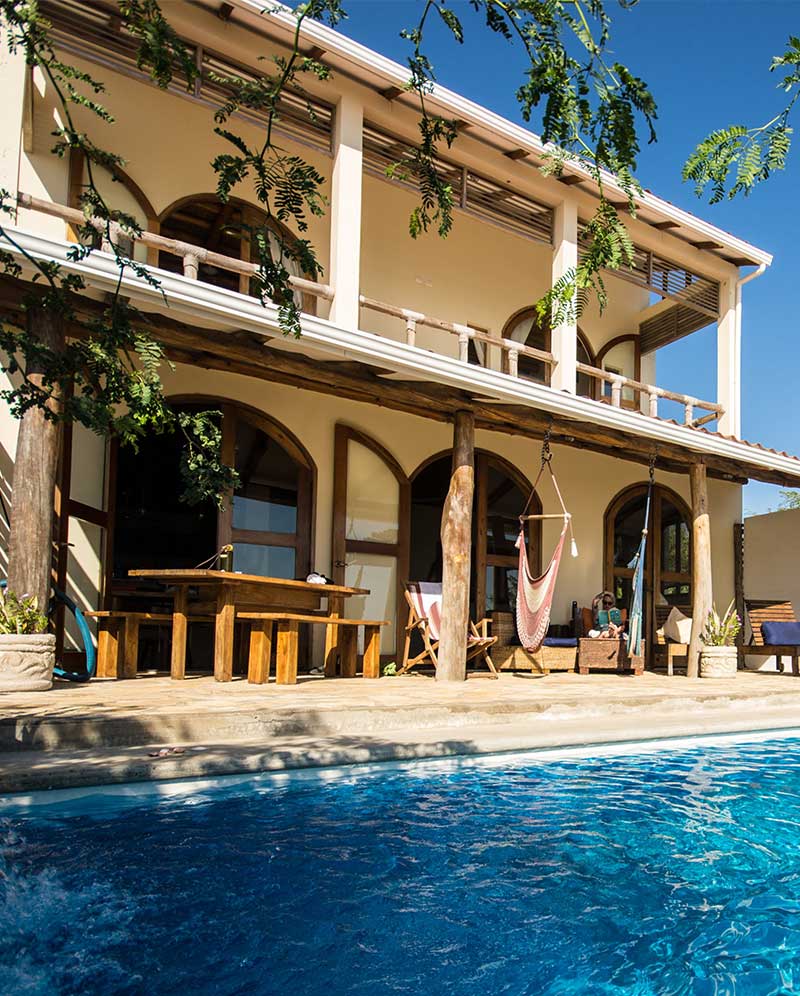 Have a property in Nicaragua?
You will have a dedicated house management team assigned to your property. This enables you, the owner, to individualize your service levels and direct the necessary maintenance and repairs. Most importantly, your house management team will manage the year-round security of your vacation home.
Your House Management Team will utilize the Quickbooks platform and communication strategies Salt Escapes has in place to streamline billing, maintenance, and communication with you.
If Property Owners choose that they only wish to have facilitation of their bill payments, we offer:
Payment of electricity, water, cable, Internet
Monthly invoice of expenses
Visits to your property for an additional transportation fee
Salt Escapes is happy to look after your housekeeping for both you and your renters. Our housekeeping services will be invoiced to you once a month. Rental fees will include housekeeping costs and supply costs.
Looking for consulting services?
Services we offer:
Business development including financial forecast and consulting on how to run a business in Nicaragua
Residency consultations
Property management
Retreat services and coordination
Rental management and guest services
Travel agent and coordination services for vacations in Nicaragua
Development of budgets, project management and executions of builds/ repairs/ maintenance
Facilitate legal services
Translation of documents
Translation services
Accounting and administrative services
Bill payments
Research in real estate/ purchasing of land and homes.
We are trusted contacts in Nicaragua. We look after people's finances and pay bills on their behalf. We offer detailed accounting services. All clients receive an invoice at the end of the month with a detailed list of what has been paid out on their behalf and the remainder cash balance we have on hand. We offer 100% transparency.
We are the bridge that connects the western world to Nicaragua. We provide you with all the information your are searching for, so that you can make informed choices. And then we work on the ground on your behalf.
There are two ways you can work with us.
You can hire us per job and pay us a one time fee. This would begin with a video call where we can discuss your needs and then we can come back with the information. This is a min $25 USD. Depending on the task and the hours required, we will provide you with a quote for the work if it is more involved; like attending a meeting with a lawyer, going into Leon/ Managua to research pricing or video creation etc.
You can hire us for a contract period of 3, 6 months to a year, with a set monthly rate. This contract can be specific to your needs and include x amount of video calls a month and x hours for emails/research/meetings that we would complete on our end. We would discuss your needs/hours and come up with a contract that is specific to you.
We have worked hard to establish ourselves here in Nicaragua. We know all our clients trust us and work with us because of the level of service we provide. We would be happy to work with you in whatever capacity suits you.
Rental Services
Salt Escapes offers an all-inclusive approach to property management services. Our focus is to maximize your rental revenue and to support the sales and marketing of your property. We offer the following unique services to our property owners:
A 24/7 Bilingual House Management Team who oversees the rental process of your property
A 24/7 Bilingual House Management Team to interact with guests throughout their stay
A 24/7 Bilingual House Management Team who oversees guests needs and concerns online and on-site
Round-the-Clock Guest assistance and Check-in for Guests.
Management of payments from guests
Project Management Service
Plan, coordinate, and execute projects according to specific requirements and constraints
Perform some or all of the activities related to project work, from conceptualization to completion
Emphasis is placed on creating and maintaining project milestones and the project schedule
The end goal is to complete the project on time and within budget
Help define the overall project budget and specific timelines for task completion